SBI! Conference Barcelona
September 21-23, 2009

September 24-25, 2009
No seminars, but networking time available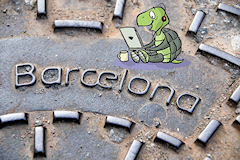 The fourth official "By SBIers For SBIers" conference will be held in Barcelona, Spain the 21st - 23rd September, 2009 at the Jazz Hotel! For those wishing to stay longer, additional networking opportunities are available. See the conference schedule below.
Join in the informal get-together on the evening of the 21st to meet the presenters and other attendees.
The conference presentations will be held on the 22nd and 23rd. If you stay an extra day on the 24th, you can attend the La Merce Festival (The 24th is also a public holiday). While no seminars will be held on the 24th or the 25th, for those staying over, informal networking opportunities will be encouraged.
Hotel Information
The Jazz Hotel is located in the heart of Barcelona between Plaça Catalunya and Passeig de Gràcia. There are 108 double rooms, all with soundproofing, climate control, LCD-screen TV, satellite TV, minibar and safe. All rooms have Wireless Internet Access and there's a swimming pool on the Roof Terrace on the 8th floor.
Hotel guests are within walking distance to all the attractions in the old city, like the Cathedral, the Rambla, Liceu Opera House, and all the hot spots of the Gothic Neighbourhood, as well as the modernist landmarks on the Paseo de Gracia, Santa María del Mar Church, the Picasso Museum, the Contemporary Art Museum (MACBA), and the Center for Contemporary Culture (CCCB).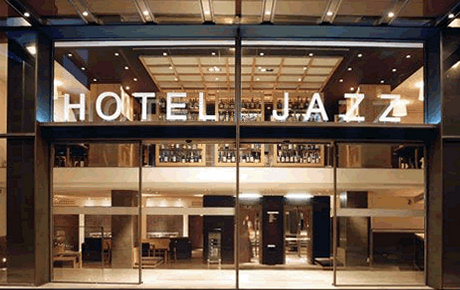 The excellent location of the Jazz Hotel allows guests to get around the city easily on public transport. Buses, metro, regional trains, night buses, tour buses, and taxi stands are all easily accessible from the hotel.
The Jazz Hotel also offers elegant conference rooms that can accommodate up to 80 people and a Business Center with free broadband ADSL or wireless internet access. With "Plug & Play" technology, you can connect from anywhere in the hotel with your own laptop (without needing to install additional software).
Jazz Hotel Room Rates
Double room: 95,00 € + VAT 6,65 € = 101,65 € per person, per night
Single room, sole use: 101.65 € per room, per night
Twin room: 101.65 € per room, per night
Hotel Policy for Conference
Total of the reservation will be charged as a cancellation penalty, unless cancellation is made a minimum 7 days before the arrival date. If you cancel the booking within 7 days before your arrival day, all reservation fees will be charged to your credit card as a no-show penalty.
Check - in Time: 3 P.M.
Check - out Time: 11 A.M.
No pets allowed.
Related Conference Rates
We've negotiated a discount at the Jazz Hotel for breakfast and the rate is 10.70 € per person per service (VAT included).
The projector and screen will be 100 € per day (including VAT 16%) which divided between 30 is just over 3 € per day each (less if there are 40).
The rate for the meeting room is 174 € per day, which is just under 6 € per day for 30 attendees (less if there are 40).
The hotel also has private parking at the rate of 23.54 € per day.
Proposed Conference Agenda (subject to change)
21 September 2009, Monday, Jazz Hotel
Informal get together on the Roof Terrace of the Jazz Hotel around 7 P.M There is a bar on the 1st floor but the terrace will be a much better place to meet as there are spectacular views of Barcelona. If it's raining we will meet in the piano bar.
22 September 2009, Tuesday, Jazz Hotel
9.30 - 10.00 Welcome - Informal - Tips and Q & As
10.00 - 11.00 Brainstorming - Creating A Keyword Blueprint For Success by Tomaz
BREAK 15 mins
11.15 -12.45 SEO by Stuart
12.45-2.15 LUNCH (90 minutes)
2.15 - 3.15 Monetizing - How To Build A Profitable E-mail List by Carole
3.15 - 4.00 Building A Homepage by Linda
BREAK 15 mins
4.15 - 5.15 Making Money Online - How Do You Make Money Online?
23 September 2009, Wednesday, Jazz Hotel
9.30 - 11.00 Web 2.0 Linking by Stuart
11.00 - 12.00 Graphics, Images, Photos & Related Tools by Antoinette
BREAK 15 mins
12.15 - 1.00 Making an E-book by Linda
1.00 - 2.30 LUNCH (90 Minutes)
2.30 - 3.00 Building Traffic by Cath
3.00 - 4.00 Google Analytics by Antoinette
BREAK 15 mins
4.15 - 5.15 Case Study by Brian
End of Conference Activities
After hours networking and consolidating what you have learnt:
We have the meeting room until 10.00 P.M. Tuesday and Wednesday so you can use it after presentations, or the Business Center which has free broadband ADSL or wireless internet access. Or... you can have fun and enjoy Barcelona!
24 September 2009, Thursday
La Merce Festival - the biggest festival in Barcelona or you can take this day to network with other attendees!
25 September 2009, Friday
Check out 11 A.M.
For those wanting early bird networking, let Carole know.
Touring Barcelona
The narrow cobbled streets of the Gothic Quarter and El Born are a joy to walk around. From here it's only a five minute walk to the waterfront and the famous Barceloneta. Or, you can walk straight down Las Ramblas until you reach the Columbus statue, the Port and the amazing waterfront with all its restaurants, bars and cafes.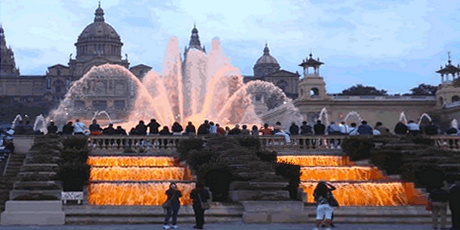 If you don't have much spare time and you want to see everything, just take a tour on one of the tourist buses which leave from Placa Catalunya - (there are night buses if you don't want to miss any meetings).
If you want to have a taste of the tours on offer from Viator, you can check them out on the following pages.
http://www.barcelona-tourist-travel-guide.com/barcelona-cultural-tours.html
http://www.barcelona-tourist-travel-guide.com/barcelona-sightseeing.html

Learn more about the beautiful city of Barcelona:
http://www.barcelona-tourist-travel-guide.com/antoni-gaudi.html
http://www.barcelona-tourist-travel-guide.com/barceloneta.html
http://www.barcelona-tourist-travel-guide.com/montjuic.html
http://www.barcelona-tourist-travel-guide.com/barcelona-restaurants.html
For More Information
Learn more about the 2009 Barcelona Conference. You can find out who's coming, who's presenting (or offering to present), or you can get matched up with a roommate, all in these threads on the SiteSell SBI! Forums:
Barcelona, Spain Conference Planning:
http://forums.sitesell.com/viewtopic.php?t=107736
Barcelona - Presenters and Volunteers
http://forums.sitesell.com/viewtopic.php?t=106469
Barcelona - Need a roommate?
http://forums.sitesell.com/viewtopic.php?t=106470
You can also contact Carole, the Barcelona Conference Organzier, at barcelona-tourist-travel-guide.com directly to get more information about the conference, by using the form below:
Return to the home page from
this SBI! Conference Barcelona page.
---
© SBI! Conferences - LLC
Contact Us