Edinburgh Conference
by May
(Scotland)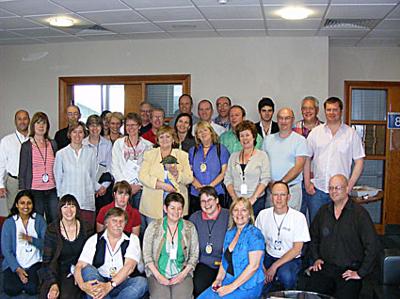 Edinburgh Conference Group Photo
The Edinburgh Conference was something that we, in our wee Get Together Group, dreamed of 18 months ago, and then at our last meeting in October, we decided to make it a reality.

As part of the Planning Team we had no idea how many would come and of course in the beginning who the Presenters would be or what shape the whole thing would take.

All we knew was that we wanted to help our fellow SBI'ers build their online business(es), have a fun weekend, and show them some good old Scottish warmth and hospitality. We had a lot of fun planning the event, but indeed we had a great time DURING the conference.

On a personal note, I have done very little on my site over the past couple of years because of ill health and I felt somewhat 'rusty'. I came with an open heart and mind and gleaned something old and lots new from every Presenter. I was refreshed in my thinking, gained a new vision of my goals and plans, even tho' I know I will have to face major thoracic surgery in August and my e-business goals will be put on hold once again until I recover from that. My energy is still not high, but my motivation is.

So to me, the Edinburgh Conference was a wonderful time of learning and networking (tho, I confess I didn't get the opportunity to speak to as many people as I would have liked to)

But for anyone considering attending a conference, do go!! This will be a super investment in your online business. If you have skills and knowledge, do offer to share them with others by Presenting: and of course, as there are SBI'ers worldwide, don't wait for someone else to organise it. Consider organising it yourself. The conference website has loads of tips to help anyone do this, and I'm sure the team from the Edinburgh Conference would be more than happy to share our experience with you.